Our family pets were a Golden Retriever named Rosie and rescued Jack Russell affectionately known as Dixie Doodle. We shared living space for almost 20 years. Our family of four was made more complete with the antics and unconditional love of these two dogs.
If Walls Could Talk
The front room was their room. The dogs set up residence with their cushions fitting nicely under the front windows -banquette style – from which they viewed the neighbourhood. Every time we came home two eager faces stared out the window with great anticipation and excitement of our arrival.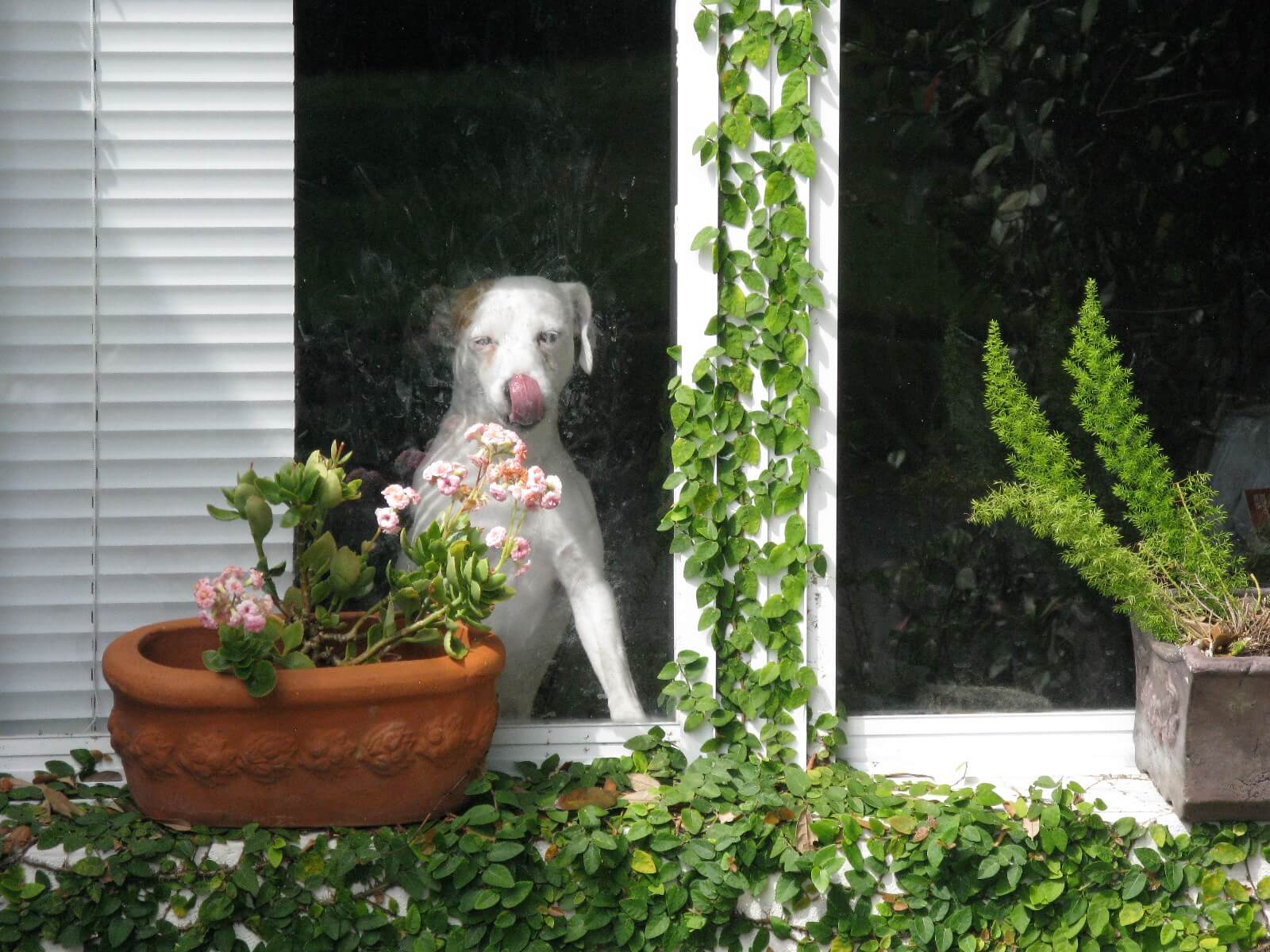 The room has also hosted lively dinner parties and provided refuge when wanting to steal away with a good book. The walls have observed teenage angst and witnessed marital spats along with overhearing thousands of conversations.  It sometimes served as a home office. My furry companions enjoyed laying by my feet and sitting on my lap. I was an intruder in their space but they welcomed me and were happy to share.
The Lost Tennis Balls 
In December 2017 the season of life with pets was over. Almost 2 decades of daily walks, playing, bathing, feeding and cuddling came to an end.  The front room was now empty and a sadness lingered.  I needed to work through the loss.  It seemed the best approach would be to give the front room a facelift. The first order of business would be to remove all the furniture to give everything a good scrub down. I knew I might discover some major dust bunnies but I was moved to tears by the largesse that lay under the old wooden armoire.  Dixie's legacy was discovered, seven "lost tennis balls" for us to remember her by.
She had loved those balls. She begged to be played with continuously: we had to throw, she would retrieve. Her declining health over the past few years had meant once the balls rolled under the furniture they were forgotten, a treasure trove to later discover. Her enthusiasm for playing fetch is my most cherished memory.
Re-home And Music Selection
My discovery warmed my heart immensely and inspired me to continue with the therapeutic exercise of redecorating. The first order of business was to re-home the daddy-long-legs, that resided in the corners of my the vaulted ceiling, to the great outdoors. I have always liked these harmless arachnids that seldom roam but I didn't want them scooting around the ceiling as I teetered on a ladder painting. I then settled on Pandora's The Beatles Radio as my music of choice which included, Creedence Clearwater Rival, Rolling Stones and Simon & Garfunkel. I was now ready to paint.
The Process
I adore the wonderful faux distressed patina that a tinted translucent glaze provides.  The process required me to choose two colors. I am smitten with French Country blue so I chose a light blue for my basecoat and a darker blue to be mixed with the glaze at 1:4 ratio.
Basecoat:  Gallon of Behr's Satin Wild Blue Yonder 74BG 61/206
Topcoat (to tint the glaze): Quart Behr's Satin Peaceful River P500-5M
Glaze: Quart McCloskey Special Effects Translucent Color Glaze. Purchased online.
Spackling commenced. Pictures, calendars, and dry marker boards had laid claim to a fair amount of wall surface and dozens of holes needed plugging up with shot of knockdown to complete the restoration.  I cut in and my daughter rolled. The tinted glaze I meticulously applied by rubbing it over every square inch with cheesecloth. I layered it creating an old world feel of peeled and worn paint.
New Memories To Make
A chapter closed when our last family pet passed at age 17. It is an end of an era. We are so grateful to our furry friends that softened the edges of life with their playfulness. Our dogs participated in and witnessed much of family life. They got us off the couch to play fetch and take leisurely walks. I found great solace in hand rubbing every corner of those walls and remembering the great years that I shared with our dogs. I am ready now to welcome new memories.
God made the beasts of the earth after their kind, and the cattle after their kind,
and everything that creeps on the ground after its kind; and God saw that it was good.…
Genesis 1:25