To clarify,  I am not speaking of myself. Although my nutty creative flair fully radiates on the holidays, I am referencing another nut, the Pecan. Where would Thanksgiving be without it?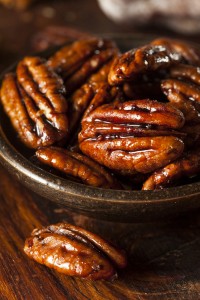 The Pecan steals attention from the turkey and mashed potatoes. Its role in pies, casseroles, and toppings are unmatched. They get an A+ in taste and in nutrition. Pecans have high antioxidant capacity which can translate into a healthier you; finally something I adore that is good for me.
The Best Thing Ever to Come out of Georgia
Sweet Potato Casserole is a recipe I acquired from my years living in Georgia. They are the nation's largest producer of pecans and are known as a southern staple. I joke that this recipe is the best thing that came out of my seven years living in Southern Georgia; the joke being both my two children were also born there.  It is my most requested recipe and is affectionately known as Tam's Yams.  It is considered a side dish and not a dessert.
Your Signature Dish is Cherished
I refer to Tam's Yams as my Signature Dish. A signature dish is a dish perfected with special ingredients with a deeply satisfying taste and is possibly too rich to eat everyday.
These are the recipes I go back to again and again for holidays, special occasions and potlucks.  You only need a handful of dishes you are noted for. These are the ones that family and friends anticipate devouring. The familiar taste and smell helps create memories.
Home Baked Treat is a Perfect Gift
There is something very affirming when someone requests you bake a specific dish for them because they find such pleasure in eating it. I once had a girlfriend call me and request my Sponge Cake. She had been quite sick and had dreamt of my dessert. Many times a home baked meal or dessert is the best gift ever. In our fast paced, eat-out society, taking the time to cook from scratch for someone is very appreciated.
Start Collecting
Have you started your Signature Recipe Collection? Not every recipe will make the cut. I have less than 12 which have taken me three decades to collect. This Thanksgiving is the perfect opportunity to hone in on those warmly anticipated family favorite recipes  I would be honored if Tam's Yams was up for consideration. This nut won't disappoint.  Bon Appetite.
 Rejoice always,  pray continually,  give thanks in all circumstances…
1 Thessalonians 5:16-18