I have always savored the three-tiered layered tray with delicate crust-cut sandwiches, warmed scones with clotted cream and petit fours that make up the classic Afternoon Tea. It was utterly delightful to have just discovered the origin of this wonderful culinary offering. Julian Fellowes of Downton Abbey fame recently released his latest British historical drama, Belgravia. In Episode 1, set in 1840, the fictional character Anne Trenchard is invited for Afternoon Tea by the non-fictional Duchess of Bedford. Mrs Trenchard proclaims, "I'm so interested by your invention of Afternoon Tea." The Duchess replies, "it does seem to have taken wing." Historically accurate, this throw away line depicts the origin of Afternoon Tea. The Duchess could simply not endure the long period between lunch and 8pm dinner and so begun this renowned tradition of brewed tea with savory tidbits midafternoon.
WHERE IT ALL BEGAN
The Anglican Church Ladies Tea Luncheon is where it all began for me. As a young girl my sister and I grew up serving tea at these wonderful functions. I have been collecting memories of Afternoon Tea ever since. Orlando has been my home for many years and so I have had the opportunity to enjoy Afternoon Tea at the Ritz Carlton Grande Lakes and the Garden View Tea Room Grand Floridian. Both use their Lobbies/Lounge area to provide exceptional ambiance. However it turns out the best scone I have ever eaten was at a very quaint Bed and Breakfast in Toronto, The Tartan House. Afternoon Tea is some times mistakenly referred to as High Tea. Although it sounds fancier, High Tea is actually the evening meal which includes hot food.
TEA FOR A PRINCESS
My most distinct memory of serving tea is from 1987 in Bangkok. I was a volunteer onboard a Book Exhibition Ship docked in port. Our honored guest was the Princess of Thailand, Maha Chakri Sirindhorn. I remember the etiquette class we were taught before she arrived. We could not expose the soles of our feet to her as they are considered low and dirty. We served her tea without incident.
TEA WITH FAMILY AND FRIENDS
My first Afternoon Tea with my daughter was at The Peabody in Orlando. Just after her 13th Birthday we sat against an elegant backdrop to have a graceful conversation about womanhood. The finger sandwiches and sweets were delectable as we witnessed the ducks' daily march down the red carpet in the lobby. We have since shared many lovely Afternoon Teas together including one at the Fairmont Palliser in Calgary for my Birthday. It was the first time I had fresh lavender infused in my tea and the aroma was delightful.
I have also had Afternoon Tea with my son and daughter in law at the Oxford Exchange in the heart of Tampa. Exposed brick walls and a central water fountain creates a wonderful ambiance bustling with energy. They have also brought Afternoon Tea, including fresh macarons, to my home on Mother's Day and gifted me with a Tea set from their trip to England.
A Saudi Royal Family once gave me boxes of tea, sorta. Our friends who catered for them during their Florida visit always had leftovers of which I was the lucky recipient. As I sipped their Middle Eastern brews I wondered about their lives in royal palaces in arid deserts.
I have enjoyed authentic Afternoon Tea in an English Home in London where our gracious hosts also treated us to Cream Tea in the shadow of the Queen's residence, Windsor Castle.
Another great story takes me to the subcontinent. I was at a school village in India. After a short cultural presentation we were offered hot chai. It was my first time having this exotic brew. The aroma was so enjoyable and the taste spicy sweet.
Iced Tea was once a favorite. I remember the first time watching the tea bags infusing water in a jug on the back porch of home in Mississippi in the blazing sun. A staple in the South, I drank it cold for many years.
Lavender n' Lace is a delightful Tea Room in Lake Alfred, Florida. I have celebrated my birthday there with friends. The walls are lined with tea cups and tea pots. This renovated house provides a most enchanting atmosphere for conversation and tasty cusine. The coconut cream pie is unparalleled in flavor.
The ambiance of the Moscow Tea Room in Ottawa is captivating. My husband and I first discovered exotic Smoky Earl Grey sitting in this distinctly appointed tea room near the Parliament Buildings on Sussex Drive. This exotic smoky flavored Earl Grey, a perfect choice for a Russian Tea Room, combines Bergamot with a touch of Lapsang and Gunpowder tea.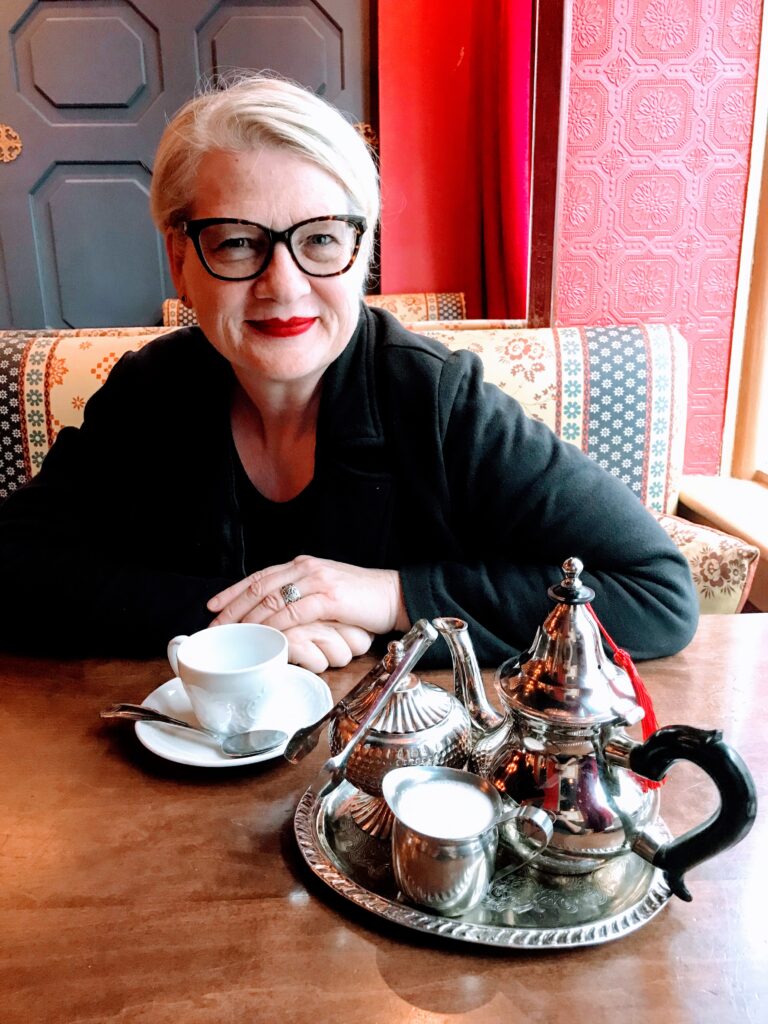 My gracious sister treated us to Afternoon Tea at the Peninsula in Hong Kong during our visit in 1987. We also had Afternoon Tea that same year with dear friends in Singapore at the famed RAFFLES, legendary because of writers in residence Somerset Maugham and Ernest Hemingway. My friend Ann suggested we experience Raffles and I am so grateful as it is now a cherished memory. It is one of the few remaining great 19th century hotels in the world.
I enjoyed a wonderful afternoon with my mother in law, sister in law and niece at the quaint Tartan Tea House in Nova Scotia where we donned fun hats. The following Christmas my mother in law gifted me the book Royal Teas: Seasonal Recipes from Buckingham Palace. I am determined to try my hand at making scones.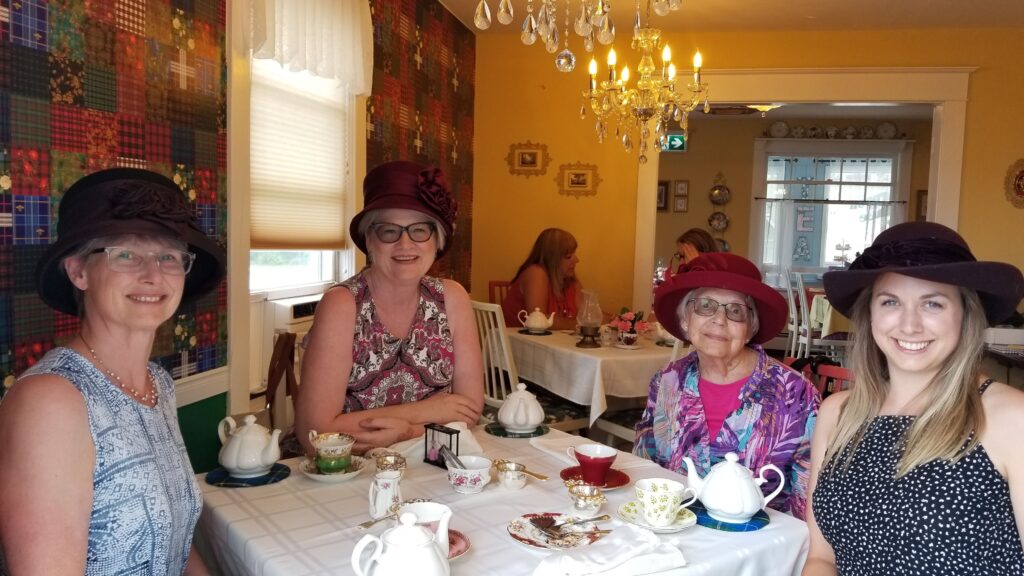 MY CULTURAL FAUX PAS
My experiences with Tea also includes a more simpler exchange on the Champs-Elysées. My greatest regret was not visiting The Mariage Fréres just around the corner from where we were staying in the Marais. It is France's oldest Tearoom and the world's most exclusive luxury tea merchant with their 600 varieties of tea. I was on a budget during my 3 day whirlwind trip of Paris and so I relied on more inexpensive brews.
It was on our third day that I had just completed a walk from the Eiffel Tower to the Arc De Triomphe and I had not yet had my morning tea. It is now late afternoon. I am grumpy. I am scouring the Champs-Elysées and every side street and finally spot a McDonald's at the Galerie Des Champs. I was elated. I spoke the entire order en Francais. Deux thé s'il vous plait et un hamburger. C'est Combien? 4 Euros, I even asked for trois sucres. My thirst was finally quenched on a sultry afternoon in Paris. But I know for Francophiles to mention McDonald's and France in the same breath is a cultural faux pas. C'est la vie.
Daily I drink only British Black Teas, PG Tips or Typhoo. I use evaporated milk, a left over habit from my childhood with my Grandma. On occasion I will drink Herbal Teas. My favorite being Rishi's Mystic Mint which I was first introduced to at an Airport beverage counter. Earl Grey is also a favored Tea I drink occasionally.
So many delightful memories associated with sipping tea. I cherish all the occasions that I have shared Afternoon Tea. A pleasing setting to converse and mark life's special moments. Forever grateful to the Duchess of Bedford for her exceptional insight to host this afternoon ritual in the great salons of 19th Century London.
Henry James The Portrait of a Lady 1881
"There are few hours in life more agreeable than the hour dedicated to the ceremony known as Afternoon Tea."