We love a deal! We love fashion! So "Fast Fashion" seems to be every girl's dream. Fast Fashion is inexpensive clothing that is so cheap we binge buy. It is essentially disposable clothing. As it turns out cheap clothing has a dramatic impact on the environment and the workers who make them. Fast Fashion has a higher cost than we ever imagined.
Better Clothing Choices
The documentary The True Cost  inspired this blog. It is a great source of information. Bottomline, clothing manufacturing is deeply flawed. The problems start with how fibers are grown or created in labs. Chemicals used along the entire supply chain are harmful to people and the environment. Garment workers are grossly underpaid and work in dangerous factories. We have got to change our ways!
How I Can I Make A Difference  
We are bombarded from every direction through targeted marketing. We are convinced a cute new skirt will be the instant fix to soothe our woes and make us look fabulous. To withstand the pressure to buy buy buy, we must be informed.
Together we can effect change. It is called being a "conscious consumer".  I have listed 3 simply steps to combat Fast Fashion. Lifestyle decisions that matter.
Buy Skirt from THRIFT STORE Just $5 or less

Next time you have a need to shop consider a Thrift Store purchase. If you are feeling that your social media accounts already have photos of your cutest outfits then thrifting is a great substitute.  You can still have the same thrill hunting for that perfect item at the best price! Buying less Fast Fashion helps on many levels.
There is a downside to Thrift Stores because of the sheer amount of cheap second hand clothing we donate. Only 10% – 20% of donated clothing is sold to Americans.  This disposable cheap clothing is shipped to developing nations. Unfortunately, the domino effect is to destroy local garment industries. Consider hosting your own swap parties amongst your friends, schools and community.  Take a sewing class and start to create your own wardrobe.
Purchase ORGANIC TEE Just $15
Most people think they can't afford Organic Cotton. But many items are very affordable. The importance of buying Organic Cotton is significant because it does not use pesticides. It is the chemicals in pesticides that do so much damage to the farmers who grow the cotton and the environment where it is grown. We all wear tees. Consider purchasing Organic Cotton tees to help offset pesticide use.  PACT ORGANIC sells a super soft  basic tee in over 25 colors for just $15.99. They also sell  racerback tanks, long sleeve, scoop neck and relaxed fit all for less than $20.
Give to WORKERS RIGHTS/ENVIRONMENTAL Groups Just $10

Alden Wicker a sustainable lifestyle blogger suggestions lobbying for cleaner water and environmental protection is the greatest way to exact change, Conscious consumerism is a lie. Here's a better way to help save the world.  Protective laws for the Garment Workers and the Environment will make a lasting difference. Join or Give! Just $10 is a great start.
The Solidarity Center is the largest U.S.-based international worker rights organization. Their mandate is help workers attain safe and healthy workplaces, family-supporting wages, dignity on the job and greater equity at work and in their community. Clean Clothes Campaign  improves the working conditions in the global garment industry.
Friends of the Earth  is the world's largest grassroots environmental network with  more than two million activists in 75 different countries.  Natural Resources Defense Council works to safeguard the earth – its people, its plants and animals, and the natural systems on which all life depends.
Who Made My Cute Dress
Personal stories are the most telling. You may have heard of the collapse of Rana Plaza Building in Bangladesh due to poor construction. The owners ignored the signs of structural failure. It ended with the death of more of 1000 garment workers in 2013. In addition to unsafe buildings, poor working conditions and very low wages are industry practices in developing nations . Nazma Akter tells her experience in the garment industry in Bangladesh.
What About Synthetic Material

We love our fleece jackets and our yoga pants. More than 50% of clothing is made from synthetic fibers like polyester.  The problem is when we wash them. The clothes release "microfibers".  Microfibers essentially go down the drain into our water supplies, then into the belly of fish which we eventually eat. This number is crazy – 1.4 million trillion– it is the amount of microfibers that are in our waterways. The Story of Microfibers  is a short 2 minute animation explaining the problem.
Consider more eco friendly material like organic cotton yoga pants from Hyde Yoga. They are committed to quality, environmental consciousness and awesome comfort.
More Great Apparel Companies Online

People Tree is a 25 year old company based in Tokyo and London and is known for sustainable and fair trade clothing. SiiZU  uses 100% natural fabric that is sustainably grown – containing 0% polyester, 0% toxins. Bead and Reel's   "Ethics" page is every conscious consumer's dream. Earth Creations has a full line of eco-friendly, clay dyed clothing made from sustainable fibers such as organic cotton and hemp. Earth Creation clothing is also certified UPF 50+ for Sun Protection and Made in the USA.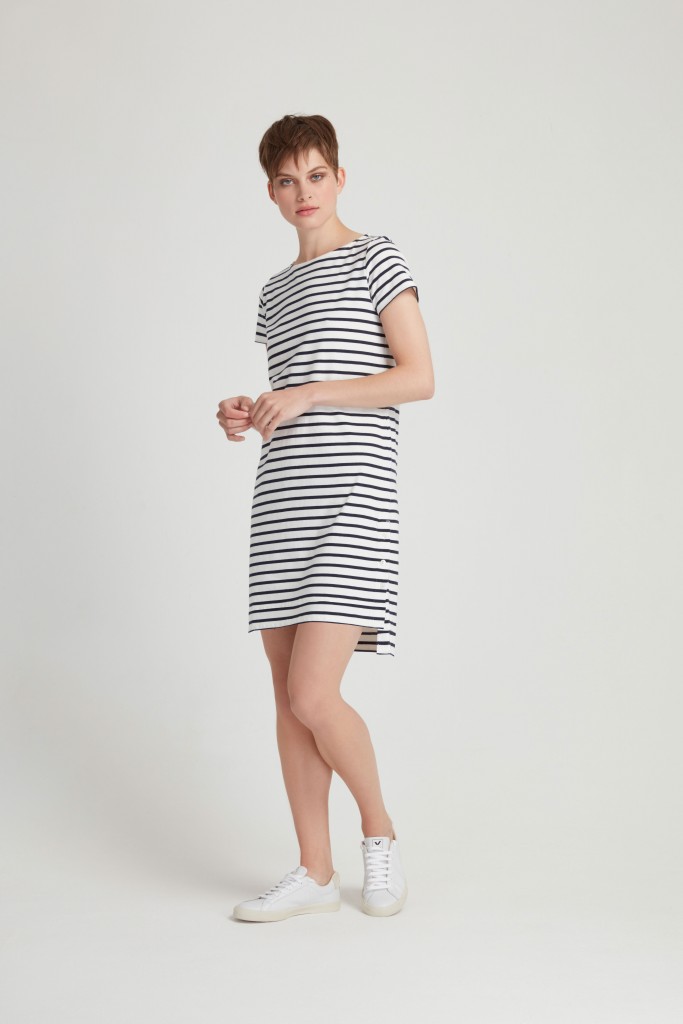 Celebrity Emma Watson is bringing awareness on a grand scale. Many headline designers are now environmentally and ethically conscious fashion companies. More of Emma's ethical fashion on Instagram  @the_press_tour !
Buy Less. Buy Better. Be Involved!
Let's inspire each other to make the world and the lives of others better.  Three steps towards change! Thrift, Organic Cotton, Give to Protect. Repeat.

Save
Save
Save
Save
Save
Save
Save
Save
Save
Save
Save
Save
Save
Save
Save
Save
Save
Save
Save
Save
Save
Save
Save
Save
Save
Save
Save
Save
Save
Save
Save
Save
Save
Save
Save
Save
Save
Save
Save
Save
Save
Save
Save
Save
Save
Save
Save
Save
Save
Save
Save
Save
Save
Save
Save
Save
Save
Save
Save
Save
Save
Save
Save
Save
Save
Save
Save
Save
Save
Save
Save
Save
Save
Save
Save
Save
Save
Save
Save
Save
Save
Save
Save
Save
Save
Save
Save
Save
Save
Save
Save
Save